Ella has been bred back for 2016, although Teresa Griner has first right of refusal on the colt option and Debra Benjamin has first right of refusal on the filly option! We are also expecting a halfbred foal out of the TB mare (Amelia), sired by Topgun. Amelia is closely related to Ella's TB dam, Lexy, so we expect a lovey eventing type halfbred out of Amelia.

Foals purchased from BDF can sometimes be boarded after weaning if requested, as we know age appropriate turnout is not always available at boarding facilities. We can also find great weanling to two year old boarding options in Ocala for great prices.
BLACK DOG'S FLYNN RIVER
SOLD! Flynn headed to Maryland for Mary Ellen Taggart, after a year long detour in North Carolina with Allison Kahn Sandifer!
Flynn April 2014
From ACPS Region IV Show Nov. 2014
Born on June 28, 2012, this lovely gelding is a half-bred Connemara. His mother is Swift Ocoee River and his sire is the TB stallion, Artrageous. Flynn is the boldest and friendliest I have had on the farm. Such a people horse and he is filling out nicely! Flynn should mature to approximately 15.1-15.2.&nbsp (he is 14.3 now at 2.5); He has three lovely gaits with nice suspension in the trot and a ground covering canter. He was bred for eventing and is a naturally forward fellow.
Flynn is lifetime USEF registered and registered as an ACPS halfbred. Flynn has worn a saddle and bridle and loves to be handled. He cross ties well, bathes, and is good loading on/off a trailer. Flynn has been just been lightly started under saddle. We took Flynn to the Connemara Retion IV show in Ocala in November 2014, where he won a 1st in the young horse class and a 3rd in the half-bred class.

BLACK DOG'S TOP DUN
SOLD! Dylan went to South Carolina for Danielle Molnar!
freshly clipped!
July 8, 2014
BLACK DOG'S TOP DUN




This lovely colt is a full sibling to both Gold Luck and Top of the Morning. Dylan is a fantastic and bright colt with lots of energy and potential. Dylan is registered with ACPS and USEF lifetime. Dylan was just the reserve champion halfbred at the regional connemara show. Will mature to 15.2-16 hands. Trakehner X Connemara who has three excellent gaits and fantastic conformation. His full siblings are incredible athletes with very good manners and work ethic under saddle.
BLACK DOG'S GOLD LUCK - SOLD TO LEE TAYLOR
2012 Buckskin Colt by WH Top Gun (Connemara) and out of Black Dog's Fiorella (Anglo Trakehner). Fancy moving colt born 3/17/12 who is a full sibling to BD Top of the Morning (Mia). Connor has his sister's lovely movement with a bit more bone and should finish ~16 hands. Connor is a registered ACPS halfbred and lifetime registered with USEF.
Connor headed to Canada in March and will be aimed at a competitive dressage career.
CLICK HERE TO VIEW VIDEO OF CONNOR AT LIBERTY
ANNIE SOLD 7/11/12 TO DEBBIE BENJAMIN OF INDIANA.
Black Dog's Annie Get Your Gun
Is out of Loughin's Leighseach by WH Top Gun and a bay purebred connemara. She has a lovely star and small white's and is quite the independent thing! She will be quite an addition to any purebred breeding program as her pedigree is quite nice and she can really MOVE. Lucy (dam) is very athletic, jumping 3' and competing in dressage, where she has scores to 72% at Training Level and is now successfully competing at BN eventing.
Annie's sire, WH Top Gun, is a wonderful athlete as well, and adds a bit of height to Annie. WH Top Gun is competing at Training Level in Eventing and winning! Annie should finish 14.1 to 14.2 and has her full registration from ACPS as well as lifetime registration through USEF.
Annie now resides in Indiana!
CLICK TEXT BELOW TO VIEW VIDEO.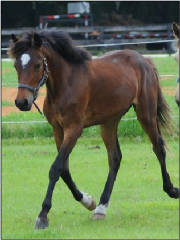 OMAR G PHOTOS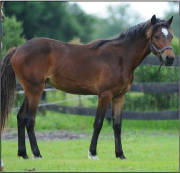 Black Dog's Annie Get Your Gun
Black Dog's Top of the Morning
Is out of Black Dog's Fiorella (Trak) by WH Top Gun (Con). Mia is closely related to Black Dog's Fiona (bottom of page, alumni page). Mia is a dun who should finish around 15.2. Lifetime registered with USEF and has ACPS halfbred papers. Her dam is an exquisite mare, very bold, who was the Zone 4 Hunter Breeding Yearling 5th place in 2006. Sire won at ACPS Region IV shows Supreme Champion (2008 & 2009) and also Dressage (2010) and is now competing in Eventing (Preliminary) in 2015. We originally retained her for competing, but Mia has since been sold to Michelle Cale (CA) for her daughter Charlotte. Mia now resides at Woodside!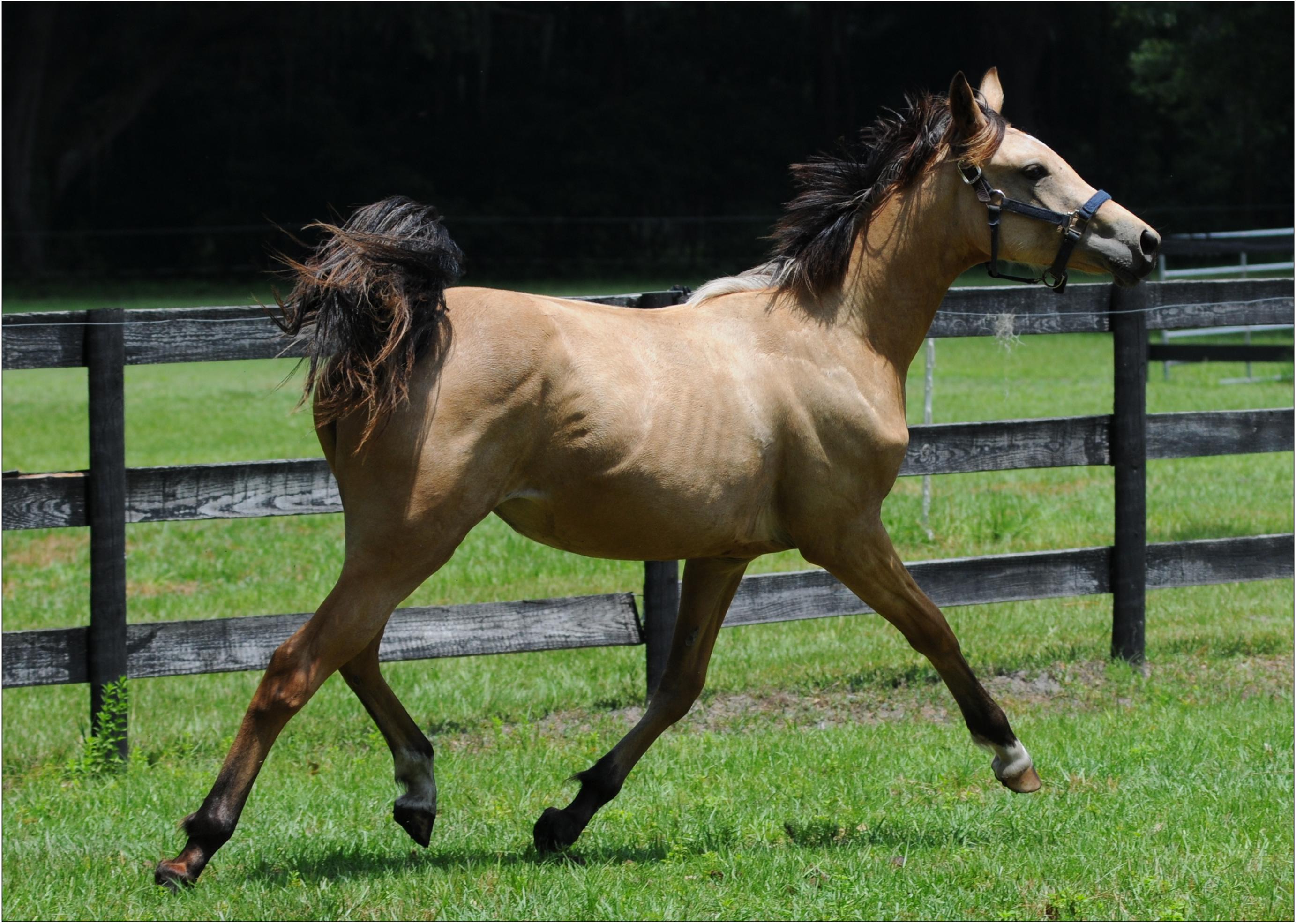 OMAR G PHOTOS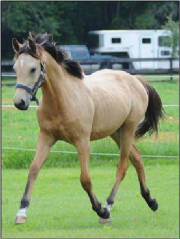 Omar G Photos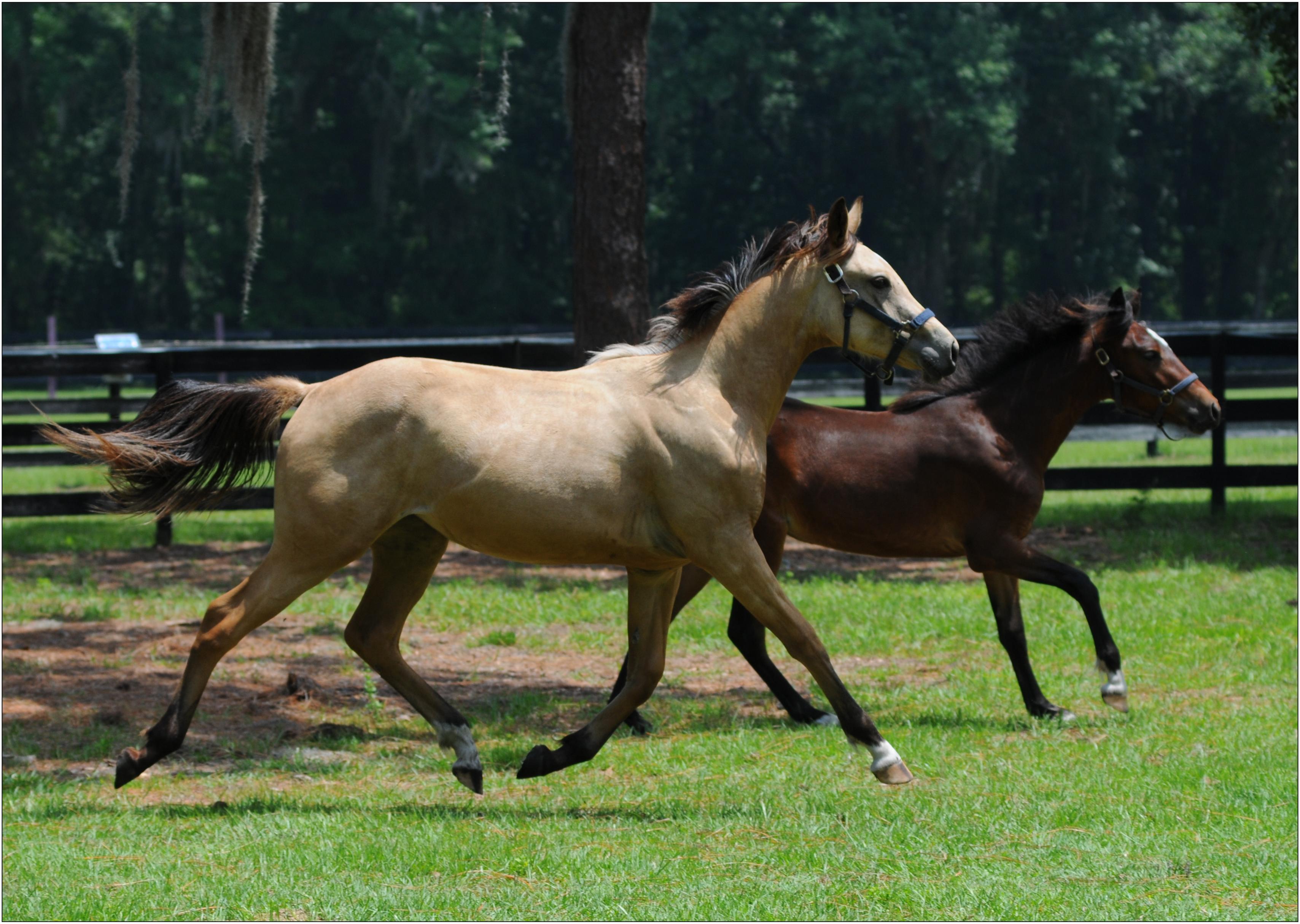 OMAR G PHOTOS
PREVIOUS YOUNG STOCK (SOLD OR RETAINED FOR BREEDING).